Translations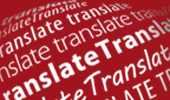 Whether you're looking for help with personal correspondence or business communication, you need a translator who has both language proficiency and expert knowledge.
I have experience in the following fields:
Furniture industry
Business
Music
Parenting
Homeopathy
A successful translation combines accuracy and precision with stylistic flexibility, a sense for the appropriate context and the purpose of the text. Even the best translation program cannot accomplish such tasks to a satisfying level – that's where I can help! In order to be able to give you a quote for the services you require, please send me your text. I will get in touch with you to discuss details as prices will vary depending on the text volume as well as on the level of difficulty.