Not everyone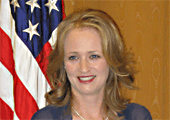 has the luxury of loving what they do; I consider myself one of the lucky ones. I have always been fascinated by foreign languages, and working as a translator is what I would call my dream job.
Having spent more than seven years in the United States, I had the opportunity to meet wonderful people while acquiring first-hand knowledge about the country and the culture.
New impulses inspire new ideas, so after returning to Germany I decided to put my language skills to use and began my training to become a state certified translator for the English language. In 2012, I successfully passed the exam at the Regierungspräsidium in Karlsruhe and have been working as a freelance translator since then.
Besides my translation work I also teach at the Volkshochschule (adult education center) and work with private students upon request.